Working for PCM
Every day, our employees work together to deliver innovative products and services to increase our customers' productivity in a sustainable way.
Working at PCM means being part of a human and technological adventure that began more than 85 years ago and to be faithful to our pioneering spirit. That's what sets us apart and is the reflection of our DNA: imagination, ingenuity, daring, innovation, engineering excellence. This is the ground on which our company was founded and this is what we want to continue to be in order to meet the challenges of tomorrow. Today PCM has over 500 employees worldwide from 35 nationalities and is a world leading supplier of solutions and fluid handling equipment for the Oil & Gas, Food and Industry.
If you are willing to join, this is what you can expect:
We give you responsibility from day one.
We propose exciting and rewarding challenges.
We encourage freedom to take initiative and make decisions.
We make your creative ideas come true.
We offer interesting career opportunities in an international environment at our locations around the world.
We provide our employees with education and training programs to develop their skill base and careers.
We cultivate a culture that encourages knowledge and experience sharing.
We work in an easy-going environment founded on loyalty and cooperation.
We are committed to providing community involvement and sustainable development.
Meet our colleagues
We asked employees around the world to tell their stories and share their experiences with you. Find out what they are saying about life at PCM. 
Career path of a French salesman
" I am a salesman for the Food and Industry SBUs for the West region of France. I have been with PCM for 19 years.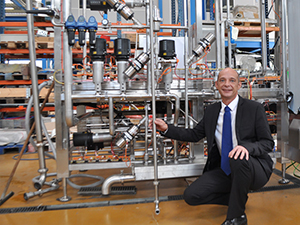 In 1994, I was recruited by PCM. I worked for 6 years in production: Mechanical sector, Elastomers sector, Food & Industry assembly, Spare parts store. Now, I am responsible for the sale of pumps, systems, spare parts and services for the Food and Industry SBUs. I handle quote for pumps and systems, order validation, monitoring of deadlines... I visit customers in my sector and prospect for new clients.
I hope that my career path will encourage other PCM employees to launch themselves and progress professionally.
The thing I most appreciate in my sales job is the variety. We are constantly in contact with clients who each work with different applications and in different sectors of activity. You need to adapt to each one and find different solutions for their requirements. I also really like working in a team. We are in the West agency with a motivated, experienced team, which brings all its know how to our clients."
A Malaysian working in China 
" I have been working for PCM in China since February 2004. I then moved to Canton in 2006 for the opening of the PCM office in Guangzhou. And since 2009, I am once again based in the Shanghai offices.
Initially, I was responsible for the South Asia area. After 2 years, I was appointed as Manager for the Asia-Pacific area for the Industry SBU, and since 2009, I have been working in the marketing department.In my role as Market Manager, I have three main missions, which are the development of new products such as EcoMoineau™ C, new specific markets and the Asia area and more specifically China. This mission was entrusted to me as I speak Chinese and other dialects.At the same time, I am responsible for communication in the Asia area, including the organization of trade fairs and seminars, the translation of brochures into Chinese, the provision of goodies...
What I like the most is to be in contact with people that know their job well and are passionate about what they do, both as professional and personal level. This has a positive effect on me in my way of working.It is a real pleasure to work with colleagues of different nationalities and cultures. Thanks to these colleagues, I have learned a lot and have acquired new skills."
A South African welder in Champtocé-sur-Loire
" I am from South Africa and I work in the factory of Champtocé-sur-Loire as a welder for Food and Industry systems.
I work essentially for Food and Industry systems assembly line. These systems are very sophisticated systems and require numerous assembling and welding operations.
The most interesting part in my job is to do several tasks at the same time. I need to know how to use several kind of specific tools. I really like the mechanical part of my job too."