New Dosys™ Pump
PCM has just launched the newest version of its DOSYS Pump (called ED1E).
Providing its users with a higher level of reliability and lighter weight equipment (easing commissioning and maintenance), this newest version of highly accurate dosing pump will now equip all PCM dosing and filling systems.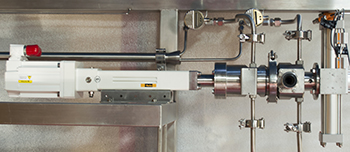 This new pump version has many advantages compared to the previous version:
Their lifespan is significantly increased thanks to the new head rotary actuators (warranty up to 36 million cycles vs. 2 million cycles with former actuators) 
The weight and the volume of the new brushless linear actuators have been reduced (up to less than 10 kg compared to former actuators)
Better behavior at higher temperature through new hydraulic barrier seals
The seals and some mechanical assembling have also been improved: new body/linear actuator and head valve/rotary actuator assemblies
The commissioning and maintenance operations are facilitated.
Click here to learn more about PCM Dosys™ dosing pumps