Artifical Lift Pumps - PCM Moineau™
Named Moineau pumps, after the name of the inventor of the progressing cavity pump, René Moineau.
Electric submersible Pumps (ESP) have been the most recognized means of Artificial Lift System for high flow rates, and Sucker rods pumps (SRP) for low flow rates. Over the last thirty years, new pump technologies have arrived - such as PCP - bringing improved efficiency and performance to the market.
The PCM Moineau™ conventional elastomer progressing cavity pump (PCP) allows easy adjustement of production according to rotational speed. This pump is ideal for handling a wide range of viscosities, sand laden fluids and free gas. The PCP volumetric, non pulsating and emulsion free system steadily handles fluctuating well dynamics, viscosities or free gas content.
PCM Moineau™ Pumps Technology
A PCM Moineau™ pump is a progressing cavity pump made of a single helix rotor inserted in a double helix elastomer stator. When the rotor turns, sealed cavities progress along the spinning rotor, moving the fluid from the intake to the outtake. Finding the right fit between the rotor and stator ensures high production efficiency and an optimal run life.
14 sizes of rotor are available for each PCP model to help you to:
- achieve the best pump efficiency after swelling
- increase run life.
PCM has a unique database for rotor sizing, which is based of 4 variables:
1. Crude Oil API°
2. Temperature
3. Type of Elastomer
4. Pump Geometry

PCM has unmatched expertise in elastomer production and selection. We produce and inject our elastomers in our own facilities, and develop our formulas in our R&D lab based on real-world experience.
All our pumps are manufactured to the highest standards of quality. PCM has been ISO9001 compliant since 1994 and has always been committed to quality. Our pumps are manufactured in accordance with ISO15136-1 standards.
The original elastomer PCP from PCM
With flow rates up to 1,000 m3/day (6,280 bfpd) and head capabilities up to 2,600 m (8,530 ft), PCM MoineauTM progressing cavity pumps offers the widest range of performance on the market.
Range of PCM MoineauTM progressing cavity pumps
71 models are available
6 series from OD 2.3/8" to 6.5/8", corresponding to the size of the API stator connections
14 different rotor sizes for optimized rotor/stator fit
5 PCM formulated elastomers covering gravity range from 7 to 47°API
Range of Flow rate: 5 to 1000 m3/d (30 to 6000 bfpd)
Range of Pressure: Up to 260 330 bar (4790 psi)
Broad Elastomer selection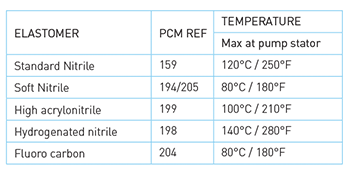 Model designation
XXXEYYYY Example: 60E1800
XXX Capacity in m3/d at 100 rpm & 0 bar
E Elastomer
YYYY Maximum pump head in meter water column